All following pictures are taken from the SNES

Title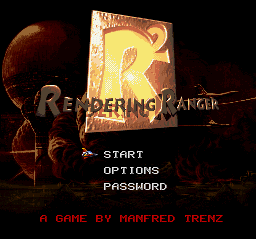 The End:
There wasn't much of an ending (boo hoo)…….I really wanted more from such an intense game….but you do see him fly away…..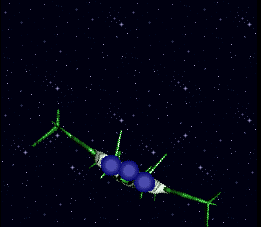 Oh, this is a fun part. Travel up, down, and every which way, with a slow moving ship. Expect to die many times.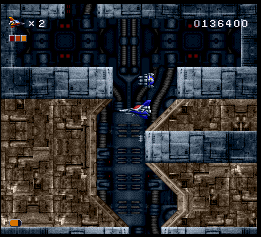 Stage 8: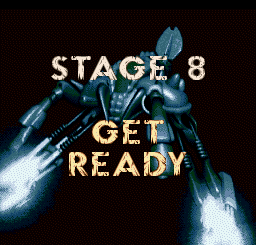 WEAK BOSS ALERT! Shoot off the bottom parts, and he folds.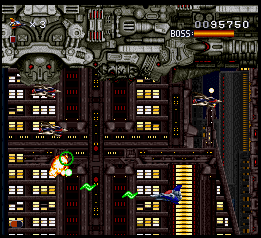 Vertical missiles are nothing for a Ranger of the Rendering sort. Wonder what a Rendering Ranger does, anyway. Patrol a park for out of control pixels?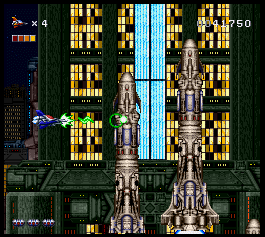 Hopefully you are powered up, use special attacks here a lot, but space them out so you have one in reserve.

Detail, detail, detail. I can almost see people in those windows. Dodge the missile shower for the rest of a somewhat difficult level.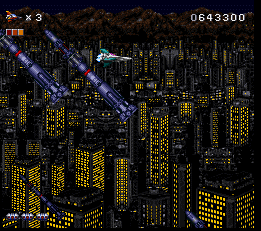 Stage 7:

This Boss is a giant, multi screened gorilla head. Yes, gorilla head.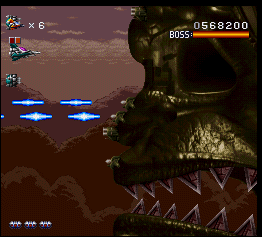 Yes, back to the ship, and a BATTLESHIP level!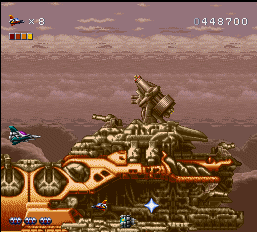 Stage 6: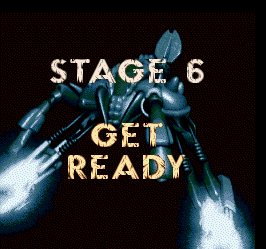 The guardian of level 8. Blue weapon works best on bosses.

Correction, guardianS of level 8.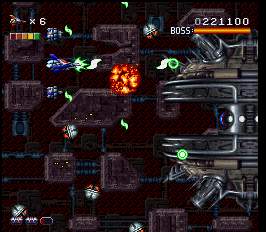 Ack, there's more? This must be the "Boss Alley"™.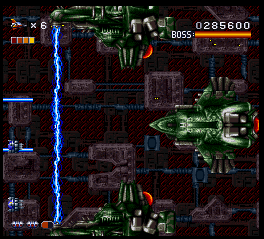 Final form, now we've got a platform to help out.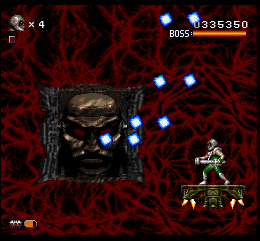 This one pulls up stones from the ground. Very spooky, this is.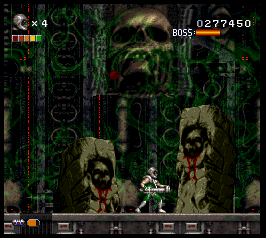 Each face has a different attack. You must beat one side to continue to the next.

The rendered cube…..Spins around in great detail, raining corrosive liquid. Don't play with it.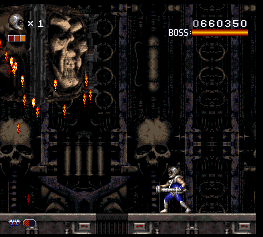 The final boss, in all his twenty-seven bazillion forms! First a generator, hide in the holes on either side to avoid the bullets.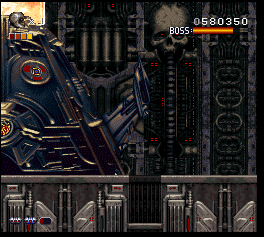 Lots of shots of level nine, because it's cool. This stuff moves up and down, confusing the player.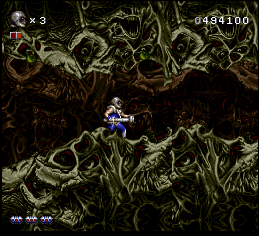 Stage 9: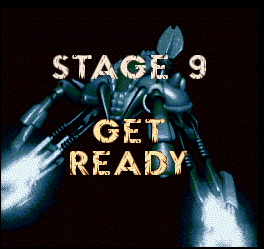 Rest in pieces, chump.

Manfred likes his cubes. Or played with blocks as a child.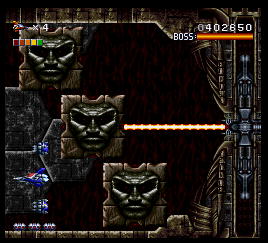 No, this is an all-out "boss fest". Each one had me saying, "this is the end guy, no this is the end guy." Heh, not even close yet.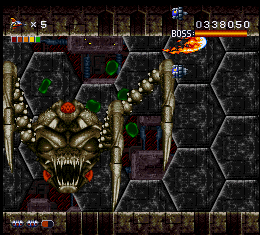 Third boss of the level, Manfred's treating us!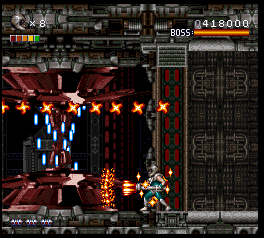 Hmm…even the walker looks Star Wars…….very easy, just lure him to the far right, hide behind a wall, and blast him!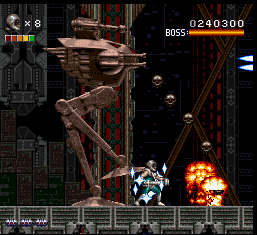 Soon the level becomes heavy on dodging flames and electricity. Here's a nice 1-up to help on your mission. Manfred Trenz hides lots of stuff on his levels.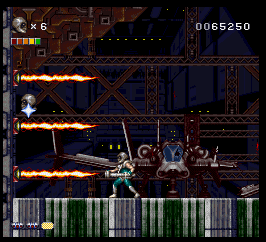 Must be hard getting a job in a world like this. Everything's blown up. Except maybe construction jobs, they're easy to find.

Stage 2:

Now for the best part of Rendering Ranger, the bosses. Shoot out the guns first, then the rest of the chopper. A game where the bosses have a hit meter.

Just like al la Contra 3, this wounded boss dives in from the back and smashes up the ground. Don't stay back here, you'll die.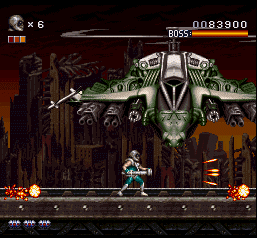 Here's a special attack, those green diamonds. Lucky called, he wants his marshmallows back for his cereal.

A few flaming jumps to avoid.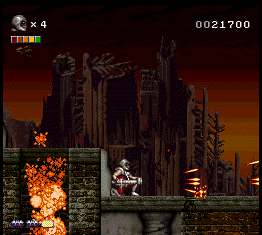 Take a gander at those lovely rendered graphics. Lighting, shadow, texture, it all mixes perfectly. The only minor detail is that RR walks in a straight line, while the backgrounds are very uneven. Doesn't quite look right.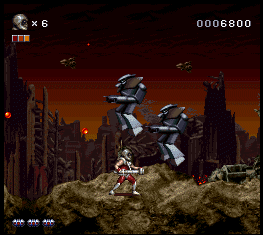 Stage 1: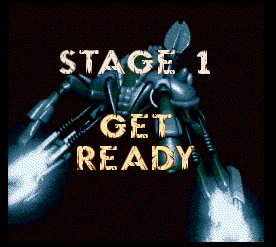 Options:
This is one of the few games where you can customize your colors!
The character looks a little goofy: an oversized head, oversized gun, and no face, but the ship is cool.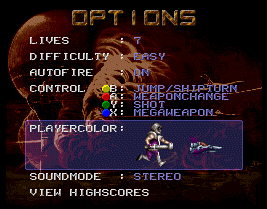 This part is soooo cool…..The Ranger hops in a ship, and it rotates and spins and takes off. Quite impressive for a Super NES. I think the Neo's color palette is turning red with jealousy!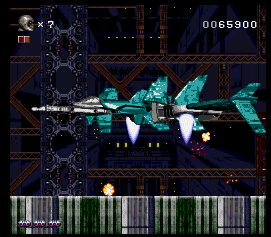 Stage 3: Look a ship! NOW WE'RE TALKING! Fire beginning too, but very well done…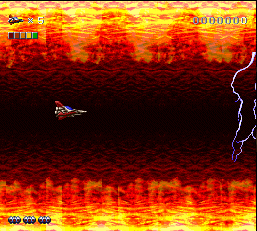 Is this me shooting him, or him shooting me?? That's the blue weapon super attack, blasting a midboss. He grabs the walls with two mechanical arms, and closes them on you.

An invincible shield, along with some weapon powerups.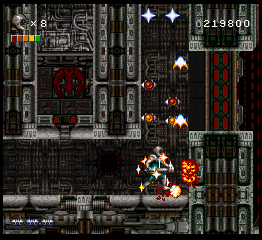 And here is said miniboss.

This reminds me of the death star, for some reason. Must be the red symbols in the back. Five has a slight mazelike quality, you have to destroy a miniboss and circle back around. Don't let the closing walls hit you…one hit is fatal.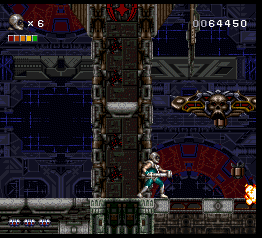 Stage 5:

... and explodes.

Another WILD boss, how do I describe this? He spins and zooms and shoots...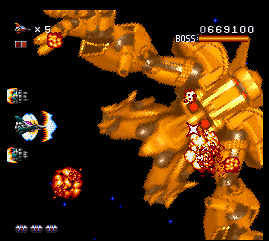 I was SO glad to see more ship levels. I was expecting one quick shooter level, with the rest platform, but Manfred does not let us down…..GIVE US A FULL SHOOTER THOUGH!!!

Stage 4: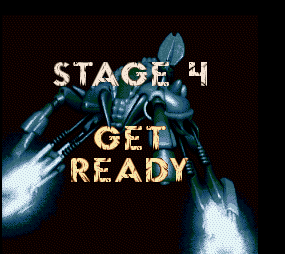 Oi, now that's a boss. The wave special attack cuts him down to size.

Diese Spezial Atacke läßt den Gegner vorne explodieren.